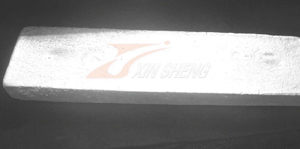 Magnesium, an alkaline earth metal, is the ninth most abundant element in the universe by mass. It constitutes about 2% of the Earth's crust by mass, which makes it the eighth most abundant element in the crust. It is the third most abundant element dissolved in seawater. Magnesium is a chemical element with the symbol Mg, atomic number 12, atomic weight 24.3050 and common oxidation number +2.
Magnesium is the third most commonly used structural metal, following steel and aluminium.
The second application field of magnesium is electronic devices. Due to low weight, good mechanical and electrical properties, magnesium is widely used for manufacturing of mobile phones, laptop computers, cameras, and other electronic components.
Magnesium is also used:
• Flashlight photography, flares, pyrotechnics, fireworks sparklers, and incendiary bombs.
• To remove sulfur from iron and steel.
• To refine titanium in the Kroll process.
• To photoengrave plates in the printing industry.
• To combine in alloys, where this metal is essential for airplane and missile construction.
• In the form of turnings or ribbons, to prepare Grignard reagents, which are useful in organic synthesis.
• As an alloying agent, improving the mechanical, fabrication and welding characteristics of aluminium.
• As an additive agent in conventional propellants and the production of nodular graphite in cast iron.
• As a reducing agent for the production of uranium and other metals from their salts.
• As a desiccant, since it easily reacts with water.
• As a sacrificial (galvanic) anode to protect underground tanks, pipelines, buried structures, and water heaters.


Standard

Chemical composition(%)

Mg≥

Elements≤

Fe

Si

Ni

Cu

Al

Mn

Cl

Ti

Pb

Zn

Impurities

Mg9998

99.98

0.002

0.003

0.0005

0.0005

0.004

0.002

0.002

0.001

0.001

-

0.005

Mg9995

99.95

0.003

0.01

0.001

0.002

0.01

0.01

0.003

-

-

0.01

0.005

Mg9990

99.90

0.04

0.02

0.001

0.004

0.02

0.03

0.005

-

-

-

0.01

Mg9980

99.80

0.05

0.03

0.002

0.02

0.05

0.05

0.005

-

-

-

0.05